Perryton Strong
Posted on June 21, 2023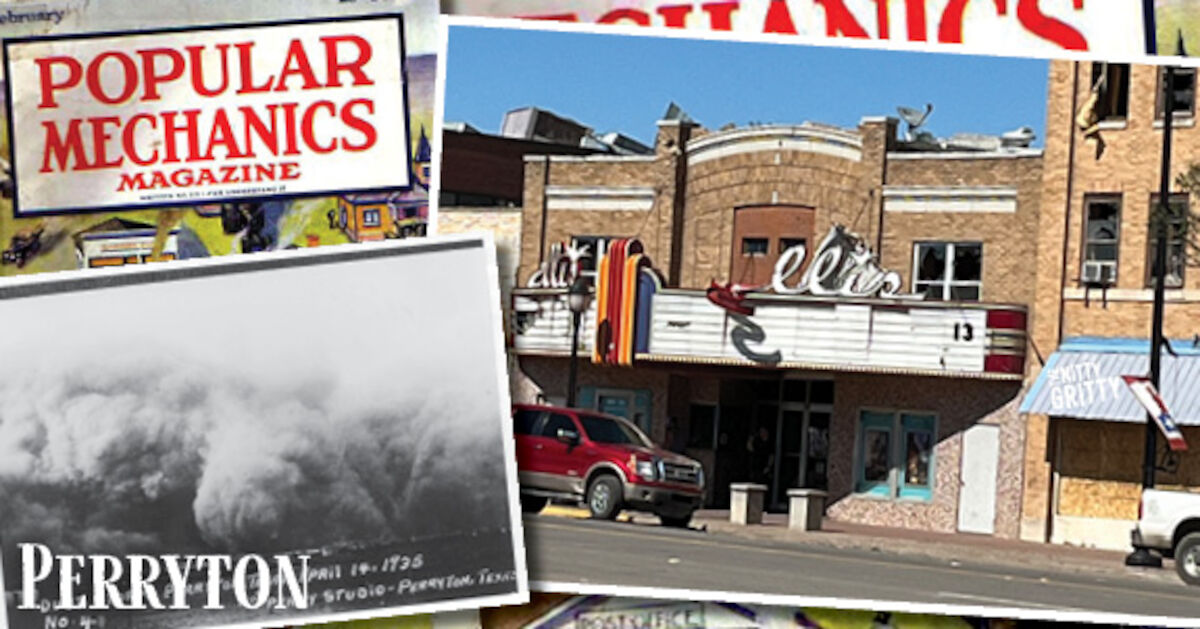 Near the Texas and Oklahoma Panhandle line, where the Llano Estacado rises up to meet the sky, exists Perryton, a town that has willed and wills to be.
However, on June 15, 2023 just after 5 p.m. the skies reached down with fury. An F-5 tornado a mile-and-a-half wide, tore through the town of around 10,000.The devastation resulted in three deaths, over 100 injuries and just as many demolished homes and businesses.
Within an hour, medical treatment and cleanup were underway. Perryton has suffered three tornados in its relatively short history, June 15 being the worst.
It is a tight-knit farm and ranch, oil and gas community marked by grit. Always has been. For 140 days per year folks rise to work in freezing conditions due to downward chinook winds of the Rockies blowing across the eastward Plains.
The county seat of Ochiltree County, Perryton is one of some 120 square cut counties on the Llano established in 1876 after the division of great Bexar County, like most all the region's counties, it is named after a Texas revolutionary hero— in this case, an attorney general of the Republic of Texas. Today, Perryton comprises 80 percent of the county's population.
This town began with national intrigue. Overlooked and underrepresented given their importance to national food and fuel, producers who toiled fields of oil and wheat, without roads or ability to export their production, county inhabitants took matters into their own hands, and tractors.
In 1919, some 300 county families upheaved foundations of nearly every structure they could. The posterity of pioneer families that had endured living in dugouts and Comanche raids for decades. From post offices to churches and homes to shops, nearly all the counties settlers loaded up in the structures and the buildings were dragged by tractor within close proximity of the railroad station on a railway they had established, on which fruits of hard labor could be transported.
The story made the cover of Popular Mechanics magazine in 1920, an illustration of tractors rumbling structures across the prairies lands of Ochiltree. Northerners from Chicago to Boston to New York baffled by such sheer determination.
A decade later, the Great Depression rolled in; a decade after, rolled in the Dust Bowl's worst hard times. World Wars, national economic collapses, and droughts. Up to one of the worst— if not the worst— tornadoes in Panhandle history in Summer 2023.
Yet, Perryton— 'the Wheatheart of the Nation'— remained, and remains.
Today, construction, manufacturing, education, farm and ranch, oil gas industries make up more than 60 percent of the local economy. A round-trip to Amarillo, the nearest urban community to the south, being a four-hour trek, friends and neighbors business with one another. From family-run corner stores, auto shops, and boutiques along downtown streets.
Its remoteness not only makes neighborliness necessary in economic transactions, it also sets up a unique cultural dynamic that makes Perryton its own special place.
On Friday nights, townspeople gather under football lights to root for the Rangers. It's sometimes speculated that the school's mascot ought to be the Cowdogs. A reference to the pride of Perryton author John Erickson and his Audie, Oppenheimer, Wrangler, and Lamplighter award-winning Hank the Cowdog children's book series. Hank is, after all, "Head of Ranch Security" and Perryton is surrounded by vast ranches.
Or gather at the 140-foot by 50-foot Ellis Theater to see the latest family-fun movie. An enormous bowl of popcorn for the family is $10 on Friday nights.
As of the publication of this piece, the Ellis is extensively damaged, the downtown corner shops and multiple family businesses destroyed.
But don't be surprised when it's all raised again as if by magic, given Perryton's history of determination, and its will to be. Against all odds.
Jay Leeson is a Lubbock-based writer and illustrator. He can be contacted at jayleeson@gmail.com or jayleeson.com.
Choose Another Article